3. Add MIDI device element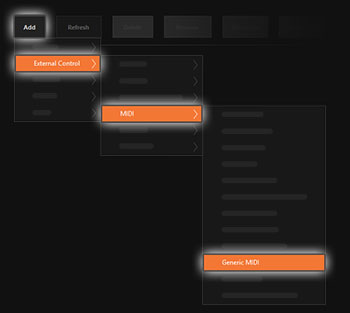 Use the Add button again to add your MIDI device element through External Control > MIDI. Currently, RD/ShowCockpit has native support for the following MIDI devices:
In case your device is not listed above, you will need to use the Generic MIDI driver and map your device controls manually. If you selected one of the devices above, you can skip to Step 5.
After adding the element, make sure that right device is selected under both Input Device and Output Device options.
Finally, click the toggle button on the left side of the MIDI device element to enable it.